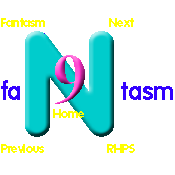 12 April, 2001
Thursday
Page 1
After the incredible success of the now infamous N9 pajama party at ChattaCon 2001, our friends and fellow deviants from FANTASM came to us with an offer we couldn't refuse. They asked us to revive our Pajama Party as part of their opening night activities. As it worked out, we were one of two Thursday night room parties, both with Pajama themes. This was cool as it added more space for the awesome crowd FANTASM draws.
The ominous task of coordinating and running the N9 party and room arrangements fell upon our favorite Mom figure: Poppy (later known by most as the "Easter Thingy")
The pictures found here from Thursday night are almost all from the N9 room or focus on N9 members as they played host(ess) to FANTASM's great fans. A special welcome to the con-goers and fans who are new to us and our site. Yes, we are photo sluts. We take more than most, and yes, there will be many that are similar to others. If there are too many that are too alike, then just don't click the thumb! Otherwise have and enjoy...
Thursday Night's activities included (but by no means were limited to):
> Best Pajama Contest - (while I am not sure who if anyone actually won this as a contestant, it was clear we all won as spectators)
> Wheel of Humiliation - (spin and win, spin and lose, how could you tell the difference? Another everyone wins game!)
> French Kissing Contest - (won by N9's own Ghost! The prize- A can of Whipped Cream. It was quickly put to good use...)
> Lap Dance Contest - (won by N9's own Peekaboo! The prize - Another can of Whipped Cream!! Also put to good use...)