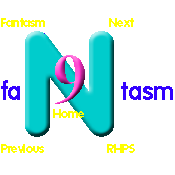 13 April, 2001
Friday - Rocky
Page 1 - PG13
This years FANTASM production of the Rocky Horror Picture Show was a display in contrasts. The ConCom (convention organizing committee) decided to run a "dueling cast" format with two independent casts performing at once on one common stage.
On the right half-stage, a cast from FANTASM's original hometown - Athens, GA, The Satanic Mechanics, represented the "traditional" Rocky Cast in "traditional" costuming and stage blocking.
On the left half-stage, N9 and all it entails. With sets, props, and "costuming" from the extreme ends of the spectrum, N9 presented the form of ANTI-Cast in all it's glory.
The Experience of Rocky Horror for N9 at FANTASM was conceived during unspeakable midnight rituals on the rooftop of an N9 house by Toel, HanniBill and a band of pixies. The chore of show director fell to the senior plotter and original N9 member - HanniBill. Known for his extravagant productions and extreme concepts, his selection to lead at FANTASM was only natural. This show was certainly up to the standards and might have been his best ever!
From airbrushing RiffRaff and Magenta with iridescent, black-light paints of eerie greenish-yellow with dark green veining (this was no simple cover or touch up painting, but rather a FULL BODY painting!!), to having a seven foot mechanical pussy with operating teeth as Rocky's "Birthing Chamber," this show had all the trimmings of his particular lunacy.
The show started normally enough. The ladies of The Satanic Mechanics were our Pre-show hosts, as they assaulted our Rocky Virgins and lulled the unsuspecting audience into the feeling it was to be a normal showing. The ladies also chose to be our Trixies for the evening and performed the traditional strip tease (with of course the FANTASM twist of actually stripping!!)